March 19, 2018
A Cyclist's Guide to Sparta
Posted by: Jennifer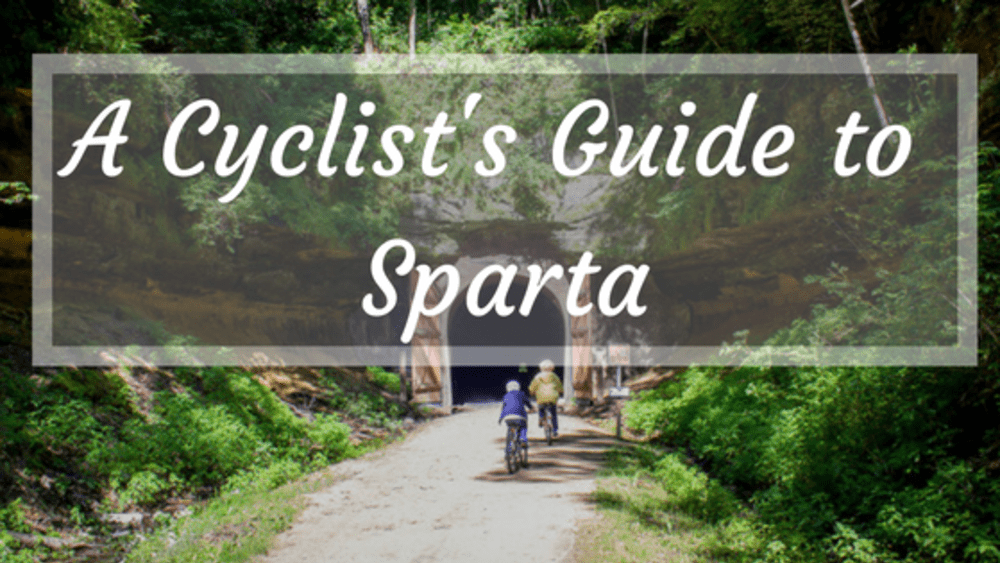 Many visitors are surprised to learn that the small town of Sparta, Wisconsin is the Bicycling Capital of America. But with over 100 miles of connected trails, Sparta is truly a cyclists dream. Spring is an especially wonderful time to explore the picturesque cycling trails in and around Sparta. The tulips are in bloom, the temperatures are pleasant, and farmers are outside working their fields. Cycling in Sparta is the ultimate way to discover the natural beauty of region while getting a nice workout along the way. Here is our guide to exploring Sparta on two wheels.
Rails to Trails
The nationally-acclaimed Rails to Trails Project works to convert abandoned railroad tracks into well maintained cycling trails. Sparta is actually home to the inaugural trail: the Elroy-Sparta Trail. This 32.5 mile trail stretches through five small towns, three rock tunnels, and several lovely bridges. Even better, the Franklin Victorian Bed & Breakfast is located just one-mile away from this local treasure.

Other Great Trails
While the Elroy-Sparta Trail is the most famous in the region, there are countless other wonderful trails in the region. Here are our favorites:
La Crosse River State Bike Trail: This 22-mile trail follows the winding route of the La Crosse River through farms, across bridges, and past crystal clear trout streams.
The Great River State Bike Trail: Follow 24-miles of the Mississippi River for beautiful scenery and a historic 287-foot railroad trestle bridge.
400 State Bike Trail: This 22-mile trail gets it name from the 400-passenger train that traveled from Chicago to Minneapolis/St. Paul in 400 minutes. Now, you can follow it between Reedsburg and Elroy to view beautiful rural scenery and the lovely Baraboo River.
Cycle-Related Fun
There are many fun bike-related activities in Sparta that don't actually involve riding your bike. No trip to Sparta is complete without paying a visit to the world's largest bicycle. This quirky local treasure depicts a mustached man in a red jacket and bright yellow pants riding an old-fashioned bicycle. Visit the statue to start your Cycling Pilgrimage off right.
Looking to learn a bit about the history of the bicycle? The Deke Slayton Memorial Space and Bicycle Museum is the place for you. The museum is dedicated entirely to transportation, whether that is by bike or space ship. Inside you'll find a variety of vintage bicycles and informative exhibits about the history of the bicycle that allow you to trace its evolution over time. The museum is also home to Wisconsin's only piece of the moon.
On May 5th, the Elroy-Sparta Bike Trail Opening Day Bike Extravaganza celebrates the beginning of bike season in Wisconsin. After a cold winter spent indoors, Spartans dedicate an entire day to the opening of the Elroy-Sparta Trail. Meet at 8:30 am for coffee and donuts and then take a shuttle to Norwalk, where you will cycle back to Sparta as a group. At 11:00, there will be an official ribbon cutting and ceremony. Afterwards, enjoy a delicious lunch of grilled brats and hotdogs and explore a variety of other vendors and family-friendly activities.

Cycling at the Franklin Victorian
At the Franklin Victorian, we strive to do everything we can to ensure that your cycling adventure is fun, easy, and hassle-free. Staying at our bed & breakfast comes with many added benefits:
People & Bicycle Shuttle Service: We provide a shuttle service to all guests that will drop you off anywhere you'd like along the Sparta-Elroy Trail, including Elroy, Kendall, Wilton or Norwalk depending and the miles you would like to ride. Shuttle services leave once daily around 9:30 am. More information on our shuttle service is available on our website.
Secure bike storage
Free bike wash station
Bike passes
Connections with local bike rentals, including Speed's Bike Shop.
There are many reasons to visit Sparta, but cycling is at the top of the list. Whether you are an experienced cyclist or just a beginner, cycling in Sparta will be an experience you will never forget.

Heading to Sparta for a cycling adventure? Book a stay at the historic Franklin Victorian Bed & Breakfast, located one easy mile from the famous Elroy-Sparta Trail.