August 13, 2018
A Wine Lover's Guide to Western Wisconsin
Posted by: Jennifer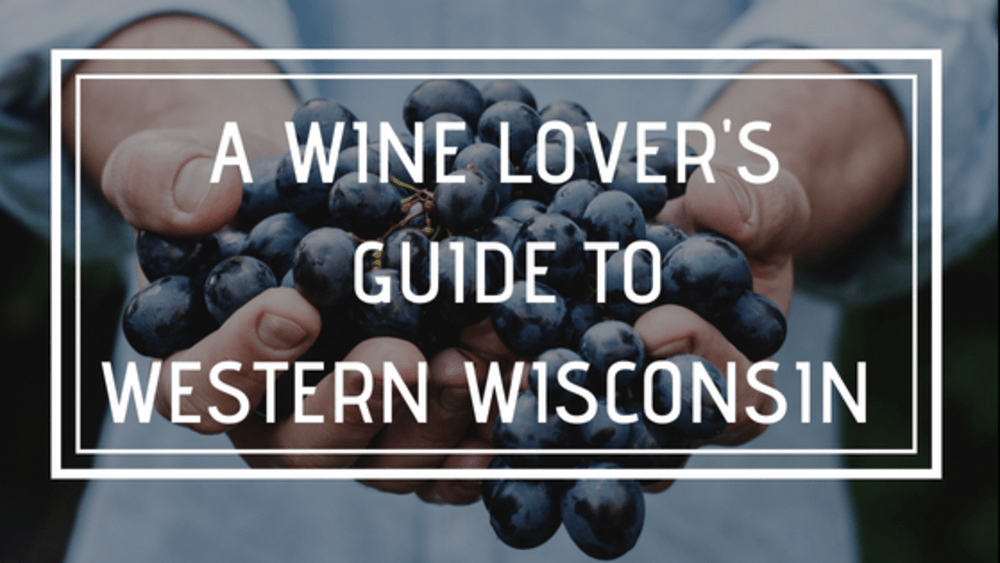 Although Wisconsin isn't on many people's radar as a wine destination, more and more oenophiles are flocking to the state to try its unique cold-climate grapes. Most people would assume that Wisconsin isn't a particularly hospitable wine growing region. However, thanks to a special hardy variety of grapes that can withstand cold, harsh weather conditions, Wisconsin is quickly transforming into an up-and-coming wine destination. There are already over 80 wineries located throughout the state. In Wisconsin, you'll find many varieties of wine that you can't find anywhere else, including La Crescent, Marquette, and St. Pepin. Many of Wisconsin's finest wineries are located in the rugged Driftless Region, where the glacial soils help to produce especially delicious and unique wines. Here are our favorite local wineries (and what wines to taste while you're there.) For even more information, visit the Wisconsin Winery Association website.

Branches Winery
Located on a charming estate 25 minutes south of Sparta, Branches Winery produces award-winning wines from 10 varieties of cold-climate grapes. Branches is also well-known for its tasty ciders and dessert wines. If you like red wine, we recommend trying the Explorer, made with Marquette, what Branches considers "the king of the cold-climate grape." For white, try the Coulee Crisp, made with La Crescent grapes for a fruit-forward glass bursting with citrus and pineapple flavors. The Wisconsin Ice Cider and Frozen Apple Blossom are good bets if you are in the mood for a sweet cider or dessert wine.
The winery also hosts live live musical performances as well as private tastings and events in their elegant banquet room. Occasionally, they also offer Wine & Cheese tasting cruises, where you can sip their wines, taste local cheese, and enjoy their dessert buffet all the while floating down the Mississippi River on the La Crosse Queen cruise ship.

DnA Vintners
DnA Vintners is most famous for their delicious cranberry wines. Using Wisconsin's world-class cranberries, known as the fruit of the "other vine," DnA Vintners produces award-winning wines bursting with flavor and incredible health benefits, especially antioxidants. They have many delicious cranberry-based wines to choose from, but we recommend their mouthwatering Chocolate Paradise wine, where rich chocolate flavors combine with tart cranberries for a truly delicious dessert wine experience. They also produce a currant wine and cran currant wine.
Burr Oak Winery
In New Lisbon, located just over 30 minutes away from Sparta by car, Burr Oak Winery offers fine Wisconsin wine in a gorgeous, European setting. The architecture of the winery is inspired by German buildings and even features several 100-year-old stained glass windows from a church built all the way back in 1882. The vineyard is surrounded by rolling farmland, making it the perfect place to take a romantic afternoon stroll. There is also a tranquil wine garden on site where you relax over a glass of one of Burr Oaks fine wines. Their Brianna Red was the 2016 Gold Medal Winner at the Finger Lakes International Wine Competition and their La Dolce Vita estate wine took home the Silver Medal. Burr Oak also hosts several events throughout the year, including the Harvest Festival in September, their Special Valentines tasting in February, and Wine & Chocolate Weekend in May.

Wine Bars & Shops
If you'd rather sit and relax in a local wine bar, you have many options in the Sparta area. Cork & Barrel is the newest addition to Sparta's bar scene. A hip and inviting space located downtown, Cork & Barrel is a great place to go to enjoy a fine glass of wine or bourbon by the fireplace or over good conversation with friends. The Cotter Pin in Leon boasts an extensive menu of wines as well as craft beer, pizzas, paninis, sandwich wraps, cheese platters, and more. In La Crosse, 4 Sisters Wine Bar & Tapas is a riverside restaurant serving up delicious small plates with a curated selection of wine wines. Also in La Crosse, The Wine Guyz are dedicated to providing a one-of-a-kind wine tasting experience for every type of drinker, whether you know nothing about wine or are a committed oenophile. Try one of their wine flights to sample a variety of wines or drink a glass or two over a delicious meal from their fine-dining menu.

Planning a wine adventure through Western Wisconsin? Book a stay at the historic Franklin Victorian Bed & Breakfast in Sparta for warm service and an unbeatable location.