April 28, 2016
Barn Quilts brighten the countryside in Wisconsin
Posted by: Jennifer
As you drive around the countryside near Sparta, WI, you will notice colorful "quilt swatches" on the side of old (and new) barns. The Barn Quilt craze has hit this corner of the country!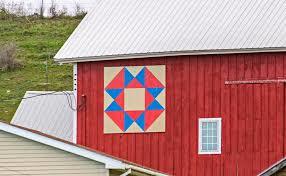 The first barn quilt was painted in Adams County, Ohio. In 2001, Donna Sue Groves paid tribute to her mother, an avid quilter, by painting a quilt block on their tobacco barn. Donna Sue combined forces with other people in her community to create a "trail" of barn quilts to increase tourism in her area and brighten the landscape in the farming community. The idea of the trail is to create a "clothesline of quilts" reminding all of the spring tradition of hanging the quilts out to be refreshed in the spring air.
The barn quilts are painted by lots of volunteer groups. FFA and 4-H groups use the barn quilts as school projects. Quilting clubs and grange association members design and paint the 4'X4' or 8'X8' plywood squares to be hung on the barns. The whole barn quilt trail project is one that unites the neighbors with a fun effort that benefits the community.
Barn quilts can be found across the country. From California to Maine, and from Wisconsin to Texas, barn quilts can be found in almost every state. In some states, the barn quilt locations are not organized into trails, but in some areas of the country, the trails are mapped, the quilt pattern is described, and the project is explained in brochures and websites.
The phenomenon is well-documented by Suzi Parron who has written 2 books about Barn Quilts. Suzi travels across the country talking about Barn Quilt Trails at quilt club gatherings and libraries. In 2016 she will have at least 55 speaking engagements and/or book signings. She has eight stops scheduled in Wisconsin in June this year.
You can see several barn quilts near our B&B and one of the favorites is shown in the photo. As you drive around the countryside, not only will you see the barn quilts but you will also experience the wonder of nature and springtime in rural Wisconsin. Make your reservation now for a springtime journey through the farm land and bluffs of the Sparta area.