February 22, 2017
Biking Trails Around Sparta
Posted by: Jennifer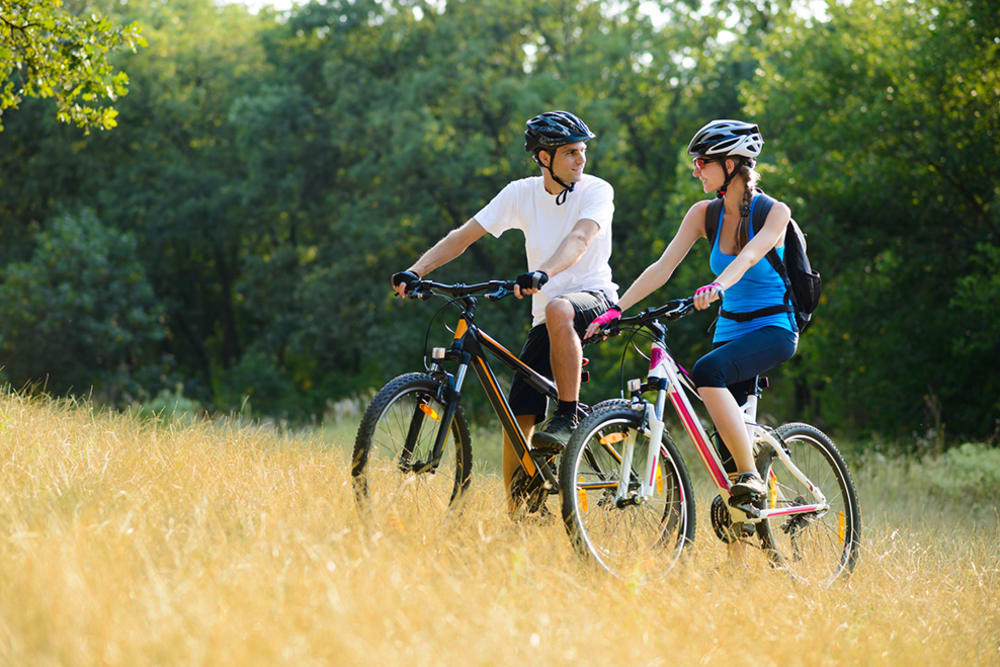 The four connecting west central Wisconsin trails, known as the Bike 4 Trails, going from southeast to northwest are listed below.
Elroy-Sparta State Bike Trail
Opened in 1965, this bike trail is the granddaddy of them all! The 35-mile Elroy-Sparta Trail was the first rails-to-trails conversion in the country, and it continues to be one of the state's most popular bicycling destinations. Located in the driftless areas, one of the most scenic parts of Wisconsin, the trail is one of the few flat surfaces in a land of narrow valleys and steep wooded bluffs. Three walking-only tunnels along the trail are part of the trail's draw: the longest is more than 3/4 mile long, between Sparta and Norwalk. Bike trails are surfaced with fine limestone or similar materials, and there is no charge for snowmobiling or hiking. Trail passes are required for bicyclists 16 years of age or older.Safety tip: Bike lights/flashlights are advisable even on the brightest summer days when going into the long unlit tunnels. Windbreakers and caps are recommended when walking bikes through bike trail tunnels.
World's Largest Talking Ben Bikin'
Located in Sparta at the corner of South Water and East Wisconsin Street, this Ben Bikin' statue is a special town landmark and can be seen by bike or car. He will talk about many exciting area attractions.
La Crosse River State Bike Trail
22-mile La Crosse River State Trail follows the winding route of the La Crosse River between Onalaska to Sparta. Enjoy picturesque farms and bridges over crystal clear trout streams. Like the Great River State Trail, the La Crosse River State Trail has a smooth surface that can accommodate both road bicycles and mountain bikes. Part of the trail even runs parallel to an active rail line.
Great River State Bike Trail
24 miles of bike path and beautiful scenery meanders along the Mississippi River on the Great River State Trail. Enjoy the views, the old 287-foot railroad trestle bridge, and race the trains along the BNSF railway. Spanning from Onalaska trailhead to Trempealeau, this rails-to-trails bike path is perfect for any type of bicycle.
400 State Bike Trail
22-mile rail trail that is between Reedsburg and Elroy, the 400 State Bike Trail is one of the four connecting bike trails in our area of Wisconsin. The trail is known for its rural scenery of the Baraboo River, which it crosses eleven times. It is part of the larger Wisconsin bike trail system, operated by the state of Wisconsin.
*The trail is named after the 400 passenger train that traveled from Chicago to Minneapolis/St. Paul in 400 minutes, though the Twin Cities 400 did not travel on the line that was converted to a trail.
---
Need a Bike? Just rent one.
Need a Shuttle? No problem. We Shuttle our Guests
Arrange with the Franklin Victorian Bed & Breakfast Innkeepers
Phone: 608-366-1427