June 27, 2016
Concerts in the Park Wednesday nights in Sparta WI
Posted by: Jennifer
It's the middle of the week and you just need a little break. Kick back for an hour or two and tap your foot to some live music at one of the Concerts in the Park held each Wednesday in the summer starting at 7:00 PM. Bring a lawn chair or a blanket (and maybe your picnic dinner) to Evans Bosshard Park at the performance band shell.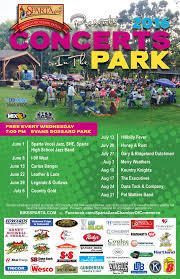 The July line-up of entertainment starts with Country Gold on July 6, 2016. This band plays traditional country music and has been on the scene in the Sparta area since 1972.
One week later Hillbilly Fever will take the stage in Evans Bosshard Park. As their name suggests, their music will be country all the way! Lead artist of the group, Bud Willow, has received several awards from the Country Music Association of America and the Wisconsin Country Music Association. You will want to get up and dance to this country band's music.
Honey and the Rust will appear on July 20, 2016. These five musicians sing a variety of acoustic favorites – little country and little rock – and it comes out great!
On July 27, 2016, be ready for Gary's Ridgeland Dutchmen. It will be time to polka! This award winning polka band will oompah until you are either singing along or are up and dancing!
August will have fair skies as we bring in Merry Weathers. This country rock band is a local favorite and will provide great mid-week entertainment!
Kountry Knights comes back around on August 10, 2016. This group began as Country Gold (see July 6) and has matured into a solid country band.
The Executives take the stage on August 17, 2016. They call themselves "the guys in ties" but you will enjoy their 60's Rock & Roll music when they let their hair down after hours!
Dana Tock & Company will entertain you on August 24, 2016. Be ready for almost anything from this group of musicians who serve as teachers (and students) at Dana's Music, a retail music store and a music school.
The last concert for the summer will be on August 31st and of what a great one! The Pat Watters Band is an authentic country twang group. It doesn't "git" any more country that this! This band has won the Wisconsin Area Music Industry Country Band of the Year Award for seven years straight! You can just enjoy the music or join the line dance that's sure to happen when this band plays.
All of the Concerts in the Park are free! They are organized by the Sparta Chamber of Commerce and sponsored by area businesses. Come enjoy the concerts as a mid-week break.