September 4, 2018
Everything You Need to Know About Wisconsin Cranberries
Posted by: Jennifer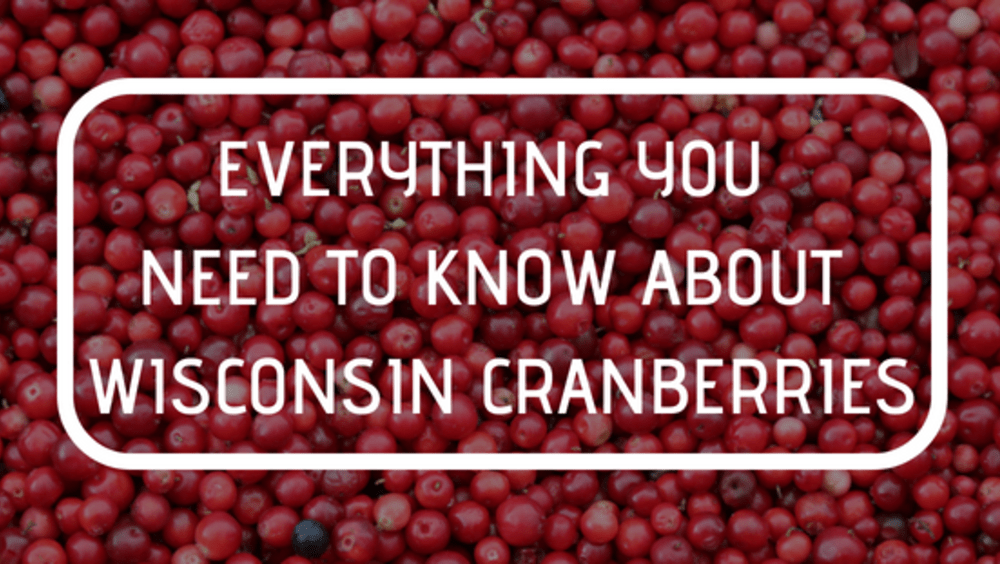 Cranberries are Wisconsin's official state fruit. Wisconsin produces more than 60% of the nation's cranberries, making it the largest producer in the entire United States. Cranberries are grown all across Wisconsin's 20 counties, including the area around Sparta. This red, tangy fruit is harvested from late September until October, meaning the season is only a few weeks away. To help you get prepared for cranberry season, we thought we'd tell you everything you need to know about Wisconsin cranberries.

Based on the photos (and those famous Ocean Spray ads), you might think that cranberries grow in water, but that is not technically the case. Cranberries actually grow on low-running vines in bogs and peat marshes that are flooded with water prior to harvesting. Because the round berries contain small air pockets, they float to the top of the water, making them much easier to pick.

Cranberries offer a wide-range of incredible health benefits. They contain high concentrations of antioxidants believed to protect against heart disease, cancer, and other ailments. They also help prevent ulcers and boast well-studied antibiotic effects on the body. This tart, poppable fruit also happens to be delicious. There are all sorts of tasty treats you can make with cranberries beyond the traditional sauce and juice. In Wisconsin, you'll find cranberry ice cream, cranberry wine, cranberry jam, cranberry-based beauty products, cranberry-tinted glass, and so much more.

There are many wonderful cranberry-related activities to do throughout Wisconsin. You can take a cranberry marsh tour, attend a cranberry festival, or take a drive down the brilliant, 50-mile Cranberry Highway that stretches from the Wisconsin Rapids to Warrens. At the Wisconsin Cranberry Discovery Center in Warrens, the heart of cranberry country, you'll learn all about cranberry history and production. If an entire museum dedicated to a fruit sounds boring to you, think again. The museum features many informative exhibits and interactive displays, original harvesting equipment, an ice cream parlor, and a gift shop where you can purchase cranberry themed gifts and snacks.

Splash of Red Cranberry Tours is our favorite local cranberry tour operator. They offer two-hour tours from September 26th through October 26th based out of Pittsville High School. These fun and educational tours take you deep into the heart of cranberry country to watch the harvesting, testing, cleaning, and freezing of Wisconsin cranberries. You'll even have the opportunity to pick the fresh fruit straight from the vine. Afterwards, you'll return to Pittsville High for a delicious cranberry based lunch, including a homemade cranberry dessert.

The Sparta region is also home to two excellent cranberries festivals. The Warrens Cranberry Festival is the largest cranberry festival in the world. Cranfest happens every year during the last weekend in September. At the fest, you'll find flea markets, arts & craft fairs, farmers markets, and even a parade. Be on the lookout for everything cranberry-themed, from contests to delicious treats like deep-fried cranberries on a stick, pancakes with cranberry syrup, cranberry cream puffs, cranberry bratwursts, and more. You can even take a Marsh Tour to get up close and personal with the cranberry beds and learn about how they grow. On October 6th, celebrate harvest day at Wetherby Cranberry Harvest Day. At the celebration, you'll get to watch the harvesting process, learn about cranberry production, and even put on waders and venture into the bogs yourself. And of course, fresh cranberries will be available for purchase.

Planning a trip to Sparta, Wisconsin this fall? Book a stay at the Franklin Victorian Bed & Breakfast for easy access to all cranberry-related activities.