October 30, 2018
Franklin Victorian Bed & Breakfast: An Eco-Friendly Retreat
Posted by: Jennifer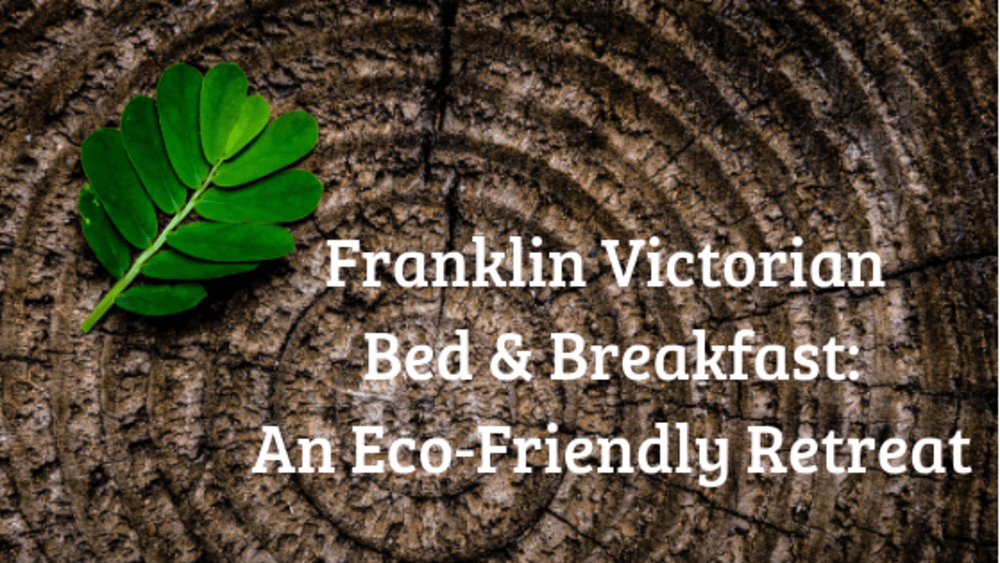 At the Franklin Victorian Bed & Breakfast, we are committed to running a sustainable, environmentally conscious B&B. We care deeply about the environment and play our part to build a better future for the land, water, air, and people that make up our beautiful planet. Thanks to our efforts, we have been certified by Travel Wisconsin as an eco-friendly lodging destination. In order to receive this designation, all participants must achieve at least 30 of the points on the Travel Wisconsin's Green Travel Checklist. The more points you earn, the greener your property is. Always the overachievers, the Franklin Victorian Bed & Breakfast has a score of 86. We don't like to brag, but that is pretty impressive. Read on to learn a little bit more about how we have created an eco-friendly bed & breakfast in the heart of Sparta.

One of the main ways we have built a green bed & breakfast is by recycling and reducing our waste. It is probably no surprise that hotels and bed & breakfasts produce a staggering amount of waste. According to the Eco Travel Guide, hotels create 1.9 billion pounds of waste a year. That's enough to fill 37 million suitcases! In addition, the cost of heat and air conditioning, lighting rooms, washing and drying bath towels, and cooking and cleaning for guests takes up a lot of energy, 84.7 billion kilowatts per year, to be exact. Eco-friendly hotels are committed to reducing the ecological impact of their properties, thereby allowing guests to enjoy the pleasures of travel without worrying too much about harming the environment.

We are a proud partner of Clean the World, a global health organization that works to improve the public health of communities around the world by providing education, sanitation, and hygiene products to those affected by poverty, homelessness, of natural disaster. Through their hotel recycling program, they collect our discarded soaps and plastic bottles and give them a second life for communities in need. All of your unused shampoos, conditions, lotions, and gels are recycled and repurposed to help those in need. Every day in North America, thousands of B&Bs and hotels discard millions of pounds of soap and shampoo. These products often end up in already overflowing landfills and contaminate fragile groundwater systems. At the Franklin Victorian Bed & Breakfast, we are proud to be doing our part to reduce our environmental impact and give back to those in need.

There are also other ways we work to ensure that are property is eco-friendly. Every morning, we serve our guests a delicious, three-course breakfast made from locally sourced ingredients. Whether we are serving creme brulee french toast, fruit parfaits and homemade yogurt, wild rice quiche, or apple dutch babies, we make sure all of our ingredients are fresh and local. If you are traveling to us by car, we also offer our guests an electric car charging station free of charge. It is located just two blocks from the B&B, at 126 W. Main Street adjacent to the Sparta Free Library.

At the Franklin Victorian Bed & Breakfast, we are doing our part to build a more sustainable future for our planet. And when you choose us over other lodging options in the region, you are doing your part too. Through our commitment to reducing waste, using local ingredients, and spreading environmental awareness throughout our community, the Franklin Victorian Bed & Breakfast is a true eco-friendly retreat.

Planning a getaway to Sparta, Wisconsin? Book a stay at the charming and historic Franklin Victorian Bed & Breakfast, an eco-friendly B&B.