Love is surely in the air. The twinkling holiday lights and red wine season just allow you to fall further in love with your favorite person in the world. While some people use this time of year to connect with their special someone, others use it to profess their love. One couple that recently stayed with us took the opportunity to take a step forward in their relationship…
Congratulations to Ella & Mike!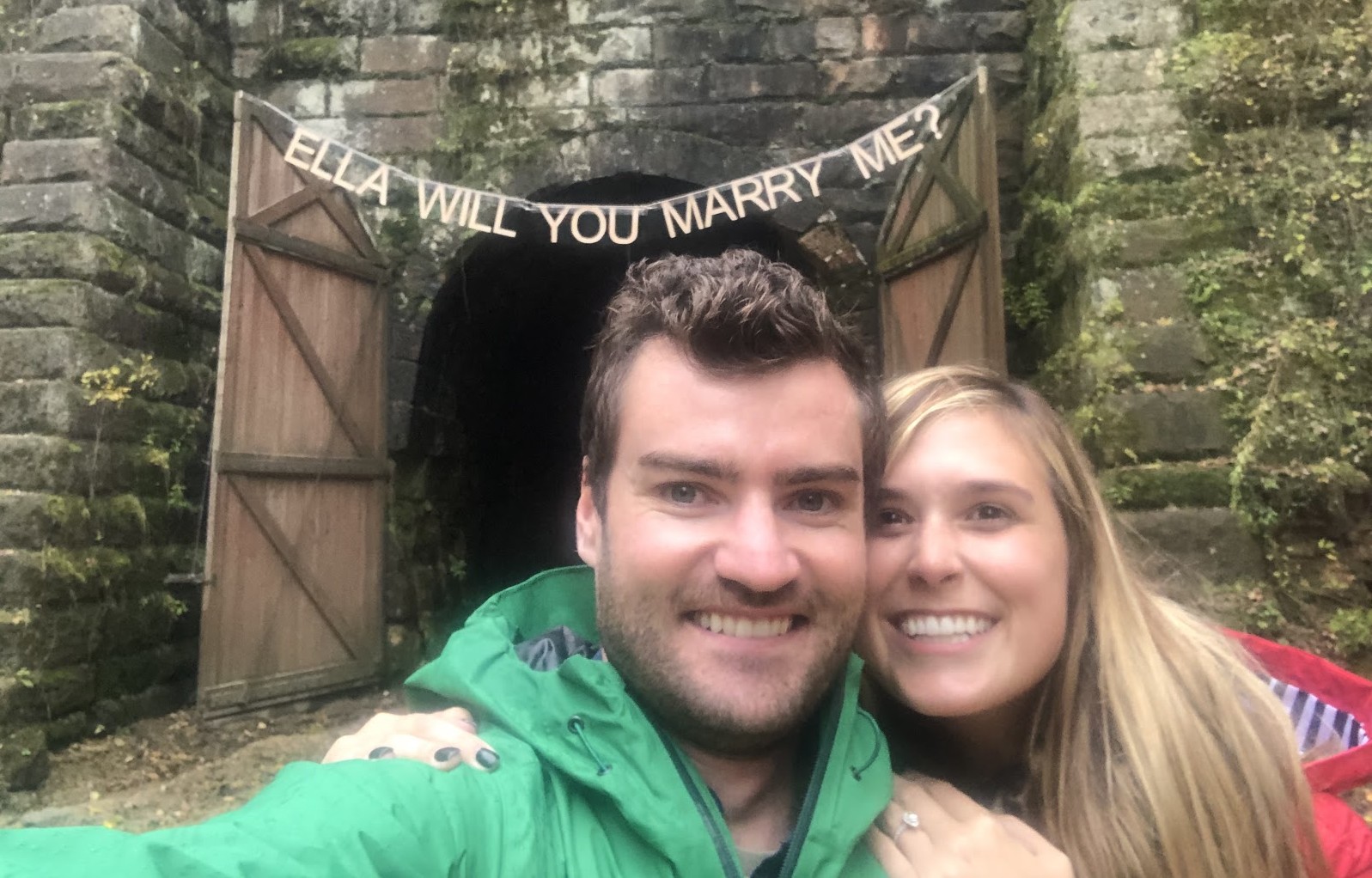 Mike planned a perfect proposal by hanging a banner on the romantic Elroy-Sparta Bike Trail's iconic stone tunnel. As you can see, Ella said yes! We were so happy to be a part of this momentous day and wish the happy couple a lifetime of love.
Love is in the Air!
If you want to get out and enjoy a romantic weekend away in Sparta, then we have the perfect plan for you! Romance is around every corner.
Elroy-Sparta Trail:
Bike or walk along this gorgeous trail with your partner. This iconic trail is one of the most popular bike trails in the state, and you never know what kind of romantic surprises might lie beyond each tunnel!
Love Lock Bridge:
The bridge that crosses Beaver Creek in Sparta isn't just a pretty structure, the spot is an iconic Sparta destination for lovers. A couple can bring a lock made especially for them and lock-in their love on the beautiful bridge. Legend says that your love for each other will last as long as the lock on the bridge- and even longer. When staying at Franklin Victorian B&B, you can request a Love Lock with your reservation and a beautifully engraved lock will be waiting for you upon arrival with 10-day advance notice. You can learn more here.
Holiday Happenings:
The holidays are just so romantic. Something about the twinkling lights, the festive decorations, and the magical feeling in the air just make you want to fall in love. Sparta during the holiday season turns into a winter wonderland. Visit some of these romantic holiday events right here in Sparta!
December 4th CP Holiday Train: Be a part of something great this holiday season as the CP Holiday Train stops by Sparta! The train arrives at 6:40 and the show starts right at 7. Listen to Meghan Patrick, Tanika Charles, and Kelly Prescott perform surrounded by holiday lights. The event is free but all donations go to local food banks.
December 6 Sparta Holiday Lights: Grab a cup of cocoa and your loved one and head to Evans Bosshard Park. A parade at 7 pm will lead up to the lighting of the park. Watch in merriment as trees and structures come to life around you.
December 6, 7, 13, & 14th Sparta's Kristkindlmarkt: Come down to the gorgeous Mueller Square to wander around an authentic German holiday market with your partner. Shop for gifts for your whole family together and meander around this romantic setting.
Romantic Dinner:
Take your sweetheart out for a romantic dinner right here in Sparta. Club Oasis is a favorite among visitors and locals alike and offers the perfect setting for a romantic night out. From perfectly seared steaks to juicy meatloaf, and slow-roasted prime rib, this restaurant knows how to treat its guests. After a filling and delicious dinner, stop by Ginny's Cupboard for a scoop of ice cream or an old fashioned soda.
Cozy up at the Franklin Victorian B&B:
After a night of dining out, wandering the town, or attending one of the great holiday events, come back to your comfortable accommodations at the Franklin Victorian Bed & Breakfast. You can stay in your luxurious rooms and take a romantic bubble bath or snuggle up by the grand fireplace in the common room. Grab a glass of wine and reminisce about your favorite times with the person you love most in the world. Planning a trip to Sparta, Wisconsin? Book a room at the Franklin Victorian Bed & Breakfast for a warm and inviting stay in one of Sparta's most beautiful and historic inns.