May 27, 2016
Heartland Series Marathon Sparta WI June 10, 2016
Posted by: Jennifer
The Heartland Series marathon organized by Mainly Marathons, touches seven states in seven days and Sparta is the Wisconsin home for this event. On June 10, 2016, Evans-Bosshard Park will be the location for runners to start their races.
The event is open to the public and will be comprised of three different races. There will be a full marathon, a half marathon, and a 5K run. There are no time restrictions on any of the races so runners feel less pressured. Some participants even walk the whole route. Some avid runners have a desire to run in all 50 states and Mainly Marathons organizes runs in 49 of our states (only Alaska is not scheduled this year).
The courses that Mainly Marathon organizes are short so the races are measured by the number of laps each runner finishes. In Sparta, the runners start at Evans-Booshard Park at 5:00am and run a loop that crosses four bridges, two of which are covered. The course has a few small hills and is mostly paved with just a short distance that is gravel.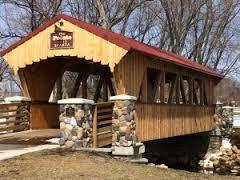 The Heartland Series of races will begin on Sunday, June 5, 2016 in Bryan, Ohio. The full Heartland series continues in Niles, MI, Potato Creek State Park, IN, Fulton, IL, Clinton, IA, then into Sparta. The final race day for this series is Saturday, June 11, 2016 in Albert Lea, MN. Online registration is available. Cost for the complete series ranges from $30 to $150 depending on registration date and length of races. Active military personnel get a $10 discount on their registration.
Come to Sparta, WI for this special marathon, half marathon, or 5K run and be part of something bigger by participating in all the Heartland Series.