October 14, 2018
How to Be Kind to Yourself While Staying at a Bed & Breakfast
Posted by: Jennifer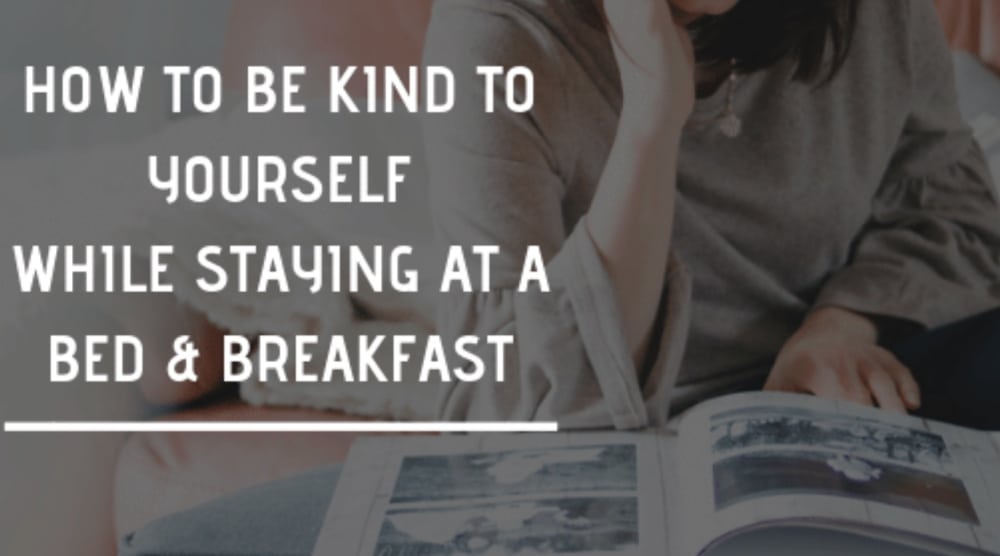 Booking a stay at a bed & breakfast is a powerful way to be kind to yourself. However, all too often, people don't know how to do it the "right way." As innkeepers, we like to think we are experts on the matter. A bed & breakfast is the perfect place to relax, unwind, and reconnect with yourself, nature, and others. To help you make the most of your next B&B escape, we've outlined the top 8 ways to be kind to yourself while staying at a bed & breakfast.
1. Relax and Take a Break from Work
We see it a lot. People are "on vacation" but they aren't really on vacation. They are busy checking their emails, answering phone calls, catching up on work, and worrying about what they are missing while they are gone. Do yourself a favor and take a complete break from work while you are staying at a bed & breakfast. Relax and enjoy yourself so you can return to the office completely refreshed. Trust us. You'll thank yourself.
2. Put Away the Phones and Social Media
A stay at a bed & breakfast is the perfect opportunity to do a little smart phone and social media cleanse. We all know that spending too much time staring at our screens isn't healthy. All too often, we do it anyway. While bed & breakfasts aren't necessarily "phone free zones," we think the experience is 100x better if you put away the phones and enjoy the moment. Talk to other guests, read a book, take a walk, or watch the sunset. You can return to Facebook when you get home.
3. Get Outside
Another way to be kind to yourself while staying at a bed & breakfast is to make a point of getting outside. We believe there is no better therapy than exercise and the great outdoors. If you usually spend too much time sitting at a desk or in front of the TV, make an effort to get outside while on vacation. That means riding bikes, taking a hike, skiing and snowboarding, or whatever outdoor activity you enjoy. In Sparta, we encourage guests to take a ride on the Elroy-Sparta Trail (or another great cycling route in the region) and enjoy a picnic at one of Sparta's beautiful parks.
4. Don't Skip the Breakfast
Innkeeper and cook Jennifer, specializes in a hot full breakfast and we go out of way to ensure that your meal is warm, delicious, and nutritious. At the Franklin Victorian Bed & Breakfast, we serve a three-course gourmet breakfast every morning that includes a seasonal fruit appetizer, pastries, muffins, scones, and a hot entree. See our website for a sample breakfast. Your entree might be different types of egg bakes, creme brûlée French toast, wild rice quiche, or another one of our delicious items.
5. Don't Feel Pressure to Do Everything on Your Itinerary
All too often, people arrive at their destination with a jam-packed itinerary and then feel guilty or angry when they don't get to it all. But the entire point of your vacation is to relax and take it easy, not stress about everything you have to do. Don't worry if you don't go to every museum, eat at every restaurant, visit every shop, take every tour, or see every major site. Your stay will be much better if you pick one or two things to do each day and then give yourself plenty of time to relax, unwind, and enjoy the B&B.
6.Chat With Your Innkeepers
One of the best things about staying at a bed & breakfast is the close relationship you can form with your innkeepers. Bed & breakfasts tend to be much warmer and more welcoming than hotels. Don't be afraid to chat with your innkeepers, Jennifer and Steve. As owners, we love talking to our guests and learning about their lives and hometowns. We are also a great resource on exploring the destination. If you are looking for directions, restaurant recommendations, or just some general tips & advice on the Sparta area, we are likely to have the answers you need (and more!)
7. Learn About the History of the Property
Many bed & breakfasts are located in historic buildings or upon historically significant grounds. Taking the time to learn about the history of the property makes your stay all the more enriching. For example, the Franklin Victorian Bed & Breakfast is listed on the National Register of Historic Places. Built in the early 1900s by a Sparta banker named Mr. W.G. Williams, our beautiful Queen Anne-style Victorian home features original leaded stained glass windows, fireplaces, an open staircase, original woodwork, and many other unique architectural features. We like our guests to know this history so they can really appreciate the place they are calling home for a few nights.
8. Take a Spa Day
Many bed & breakfasts offer spa and massage amenities. We strongly encourage you to take advantage of them! A massage, facial, or yoga class is an incredible way to be kind to your mind, body, and your soul. If the B&B doesn't offer spa amenities, look around town to see what's close by. We recommend many wonderful spa and massage services at the Franklin Victorian, so be kinsd to yourself and book one!
Planning a trip to Sparta, Wisconsin? Be kind to yourself and book a stay at the Franklin Victorian Bed & Breakfast!