June 13, 2018
Our Favorite Local Bars & Pubs
Posted by: Jennifer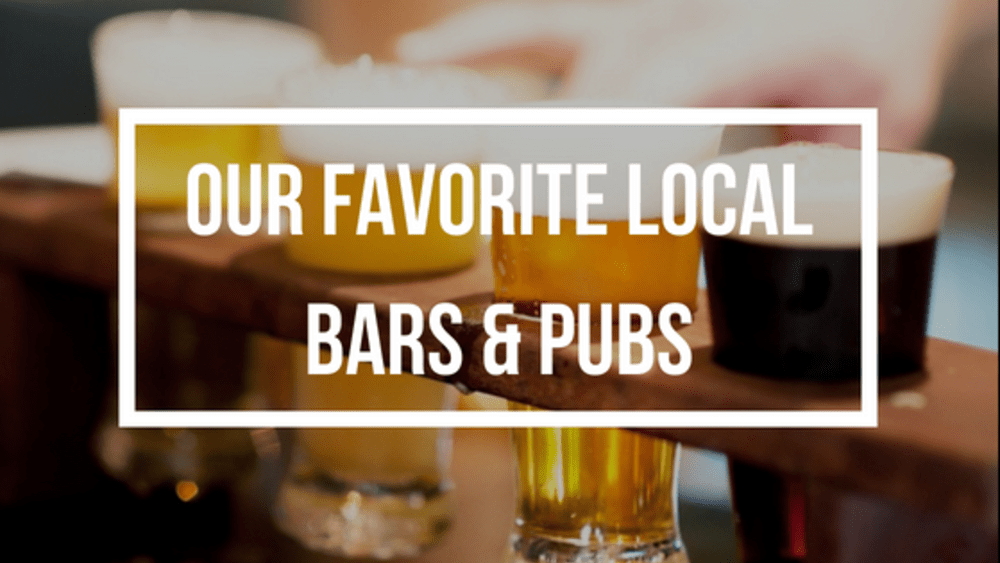 Treat yourself to a night on the town in Sparta, Wisconsin. Our small town is home to many great bars & brewpubs with many more located just a short drive away. The neighboring town of La Crosse has earned the nickname "beer town" thanks to its many world-class breweries where you can sample local Wisconsin beer and learn about the brewing process along the way. Hanging out in bars, breweries, and pubs is a great way to wind down after a busy day of cycling or sightseeing. You might even meet a few friendly Sparta locals while you're there! Whether you are in the mood for a classy wine bar, a modern brewery, or a family-friendly sports pub, Sparta's laid back, no-frills nightlife is not to be missed.
Cork and Barrel
Cork and Barrel is one of the newer bars on the Sparta scene but has quickly become a local staple. Located in downtown Sparta right next to Mueller Square, Cork and Barrel is a fashionable bar pouring some of the finest wines, beers, and bourbons in town. Their friendly and knowledgeable staff will help find the right drink for you. Stylish & welcoming, drinking at Cork and Barrel is almost like drinking in the home of your trendy friend. Sip bourbon on couches by their fire or gossip over a glass of vino at the tables. If you like bourbon, you can't go wrong with their $12 bourbon flight.

The Foxhole Pub
The Foxhole is popular gathering place for Sparta locals looking for friendly service, strong drinks, and good food at affordable prices. This laid-back joint is a good choice if you plan on bringing the kids. But don't come here if you are looking for something "light." Their menu is packed with pub classics like burgers, wings, fish 'n chips, steaks, potato skins, and of course, those classic Wisconsin cheese curds. Many locals flock to their Wing Wednesday as well as their beloved Friday Fish Fry.

Pearl Street Brewery
One of our favorite breweries in La Crosse is the Pearl Street Brewery. Pearl Street has been making award winning beers since 1999. At their tasting room, you can drink their signature craft beers, play games, and learn about the brewing process on one of their informative tours. Tours happen every Friday from 5-6 pm and every Saturday from 1-4 pm. They cost $8 and come with a souvenir PSB pint glass, one free fill, and a BOGO voucher for participating restaurants and bars. They also have free live music on Thursdays and Fridays. Swing by their "brewtique" to pick up a six pack of your favorite brew as well as swag like shirts, hoodies, and pint glasses.
Turtle Stack Brewery
Another La Crosse favorite is the Turtle Stack Brewery, a small independent craft brewery located on a charming street in downtown La Crosse. Turtle Stack gets its name from the river turtles that often show up in nearby water channels and tributaries, often stacking up on logs to warm themselves in the sun. The brewery serves a delicious lineup of ales, reds, stouts, IPAs, and more, all made according to sustainable brewing practices. With its sleek decor and knowledgeable staff, this is a popular place to meet some locals while sampling local microbrews. They don't serve food, but you are allowed to bring in food from nearby restaurants if you're hungry. Come on Wednesdays for their live music night.
Two Beagles Brewpub
Two Beagles Brewpub is located a bit further away in Onalaska, but we think it is worth the trip. Come to enjoy delicious beers and locally-sourced food in a cozy and casual setting. The brewery doubles as a sports bar where you can watch the game on their big flat screen TVs. We especially like to drink beer on their deck overlooking lovely Lake Onalaska. For the brave, we recommend trying one of their unique beer-inspired cocktails, like the Beery-Mary or Beer-mosa. If you don't like beer, they also have wine and spirits available. They serve standard pub fare like burgers, onion rings, and nachos as well as fancier offerings like andouille sausage po-boys, pizzas cooked with house-made dough, and Cajun mac 'n cheese.
The Cotter Pin
The Cotter Pin is located in Leon, just a short drive away from Sparta. This is one of our favorite places to go for happy hour or date night. The Cotter Pin serves great food and some of the best wine, beer, and cocktails in the area. Many people come to enjoy the Cotter Pin's tasty and unique creation: the wine slushie. They are also popular for their inventive pizzas, such as the taco pizza, the breakfast pizza, and the chicken alfredo pizza. Their menu also includes paninis, soups, wraps, and appetizers. If you come on the right night, you might even get to enjoy some live local music. The Cotter Pin's friendly service and warm, no-frills atmosphere make it the type of place you can only find in Wisconsin.

Planning a trip to Sparta, Wisconsin? Book a stay at the lovely & historic Franklin Victorian Bed & Breakfast.