October 16, 2016
Peak Fall Foliage season in Sparta Wisconsin
Posted by: Jennifer
Wisconsin fall colors are hitting their peak in certain regions of the state. Fortunately, you still have time to see peak colors in the Sparta area. The Wisconsin Department of Tourism has been keeping a close watch on the fall color progression throughout the state. Sparta is predicted to reach peak color during the third week of October. So it's time to make your plans for a fall getaway!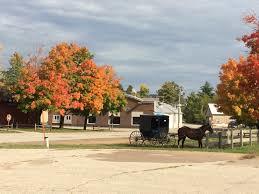 You may ask "what's the best way to see the fall colors?" Of course a beautiful drive is nice but it's better to slow down so you can breathe-in the scent of the falling leaves and watch them as they gently float to the ground. Here are some ideas for a slow view of the autumn color show.

Go for a bike ride. Sparta is known as the bike capital of the US with the very first rails-to-trails system in the country. Because the trail was a rail bed, it's not steep so you just keep peddling through the countryside. You can journey through a tunnel or two, over some bridges, and along a stream. Ride the Elroy Sparta Trail up to 32.5 miles one way. Or just go out and back whatever distance you like.

Take a trail ride and have a horse do the work for you. There are several equestrian centers near Sparta where you can saddle up a horse and join experiences "trail bosses" to travel through the beautiful area on horseback. Ask your innkeeper about Rivendell Farm and Redrock Trail Rides for an equestrian adventure.
Take a hike! While hiking in the Necedah National Wildlife Refuge, you can do some bird watching in addition to leaf-peeping. Wildcat Mountain State Park has wonderful hiking trails and views and is just a 35 minute drive from the B&B. At Mill Bluff State Park – just 30 minutes from the B&B – you will be in awe of bluffs as well as the beautiful fall foliage. The journey to each of these areas will be beautiful in and of itself!

Of course, you can always just stay in Sparta, sit on the front porch of the B&B, and enjoy the clear blue skies and wonderful colors of the changing trees right on our street! The time is now to getaway to find yourself in awe of fall!