July 29, 2016
Quinoa, Cheddar, and Zucchini Bake Breakfast Recipe
Posted by: Jennifer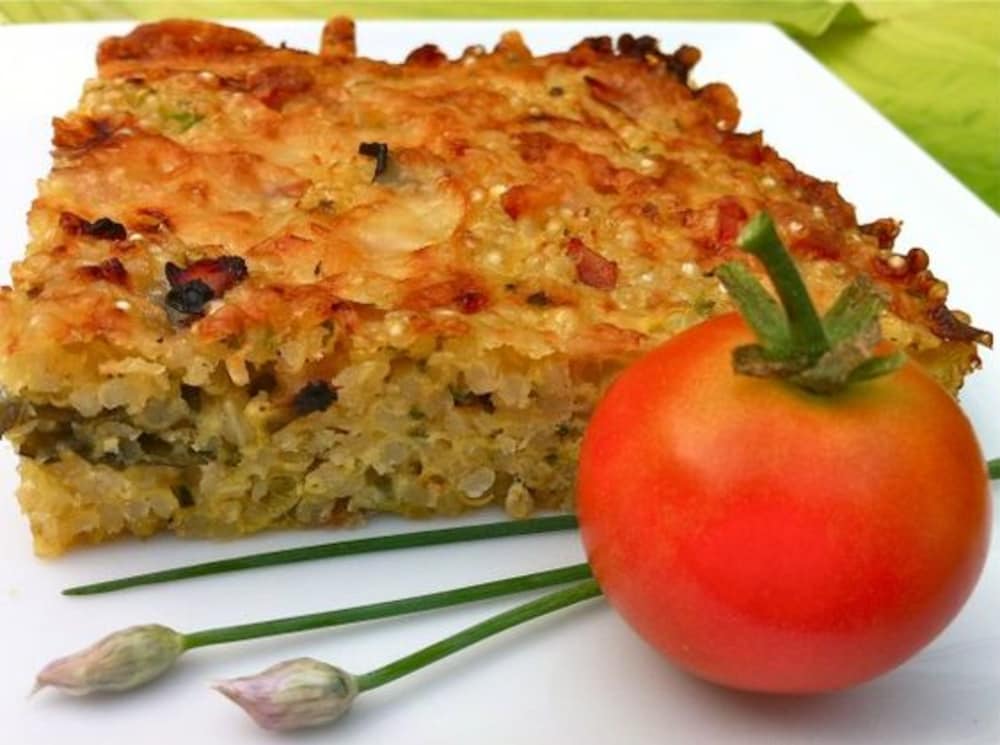 Quinoa is called "the mother grain" in Bolivia. This ancient grain is one of the few plant-based sources of complete protein so it is healthy and nutritious. In fact, 2013 was named "The International Year of the Quinoa" by the United Nations' Food and Agricultural Organization.
This ancient grain is packed with nutrients. Quinoa has a mild flavor, a light nutty taste, a bit of a crunch to it, and has a high protein content – 8g of protein in just one cup! That one-cup serving also gives you 5g of fiber, 15% of daily requirement of iron, and 30% of DV magnesium for the day. It's a complete protein so all the essential amino acids are contained to help process the nutrients in the plant. The grain is gluten-free and is sometimes milled into flour for baking. Quinoa is actually a relative of spinach, Swiss chard, and beets!
Now you can try this wonderful breakfast recipe with quinoa, fresh zucchini, (now in season) and of course Wisconsin cheddar cheese. Here is a recipe that contains this wonderful grain along with other Wisconsin favorites. This recipe is gluten-free and can be made sans ham to be vegetarian too.
Quinoa, Cheddar, and Zucchini Bake
INGREDIENTS
2 cups cooked quinoa (about 3/4 cup uncooked, see note)
3 eggs
1/4 cup milk
1 cup shredded zucchini (see note)
1 cup shredded sharp cheddar
1/2 cup finely diced ham
1/3 cup chopped herbs (i.e., basil, thyme, chives, oregano, or a mix of several)
1/4 cup minced onion
1/2 teaspoon kosher salt
1/4 teaspoon freshly ground pepper
2-3 tablespoons grated Asiago or Parmesan cheese

INSTRUCTIONS
Preheat the oven to 375 degrees.
Lightly beat the eggs with the milk in a large bowl. Add all remaining ingredients except the Parmesan or Asiago and spread in a greased, 9×9 baking dish. Sprinkle the remaining cheese over the top.
Bake for 20 minutes or until just set and the top is slightly golden.

NOTES
To achieve a slightly nutty flavor, I recommend rinsing the quinoa and then sautéing over medium-high heat in about a tablespoon of olive oil until dry and slightly toasted. Stir frequently so as not to burn as quinoa dries. Then, add the liquid and simmer, uncovered, over low until cooked through, about 12-15 minutes. To get the correct amount for this recipe, use 3/4 cup of quinoa and, after sautéing, add 1 cup plus 2 tablespoons water. You could also cook the quinoa in chicken or vegetable stock for added flavor.
I grate the zucchini on the coarse side of a box or hand grater then squeeze excess moisture out with a paper or hand towel.
You can make this recipe at home OR reserve your room at Franklin Victorian B&B and request this nutrient-packed breakfast!