September 28, 2016
Sparta WI Fall Fest and Will to Ben Bike Ride 2016
Posted by: Jennifer
Sparta, WI will celebrate Fall Fest on Friday & Saturday, October 14 & 15, 2016. Friday will also include the "Welcome" to bikers completing the Will-to-Ben Bike Tour – a week-long ride from Port Byron, Il to Sparta, WI, the bike capital of America.

Sparta's Fall Fest will kick off with a Farmers Market and bake sale from 8am to noon. This event, taking place at the Kriskindlmart location downtown, will be followed by Craft Beer tasting from 1pm to 6 pm. Sidewalk sales and craft vendors will be displaying their creations in the downtown area. Find sidewalk sales bargains starting at 9am on Friday.
Contests, contests, contests!
There will be a Pie Contest on Saturday. These delectable delights will be found at Dorine's Family Inn – one of the best dining establishments in Sparta! Judging will take place at 10am then all the pies will be for sale at noon.
If you are a photographer, bring your best shot of autumn and maybe you will be honored for winning the photo contest.
For the kids, a coloring contest will show off all the work of Sparta's young artists. A pumpkin-decorating contest is always a seasonal favorite. There will be other fun activities for the kids too.
If you are a person who keeps moving, there are multiple opportunities to do just that over this special fall weekend. There will be a "run, walk, roll (bike) event" beginning at the Chamber office downtown. Choose your type of moving in that one.
A special "Ben Bikin' Ride" will leave from Sparta, bike out to Elroy (on the first rails-to-trails path in the country) and return. That's a total of about 70 miles but you can turn around anytime you want.
If you happen to have a motorcycle (instead of the peddling kind of bike), you can join Tim Hyma who will lead a scenic motorcycle ride out through the countryside. That will be a great way to view the fall foliage and feel the cool temperatures of autumn!
Perhaps the most unusual way to participate in a moving activity is to join the Zombie 3K walk! This walk starts at 6pm (so it will be dark) and travels through Sparta's Memorial park and out through the golf course. You may want to keep a watch out for other types of ghouls and goblins that night.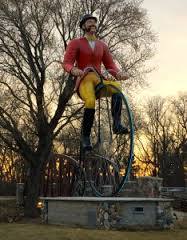 The "House of Shadows" will be open for a night of scary entertainment. This interactive haunted attraction is run as a fundraiser for the Boys and Girls Club of Sparta. You may choose your level of "scariness" too. The "not so scary" show starts at 6pm; The "very scary" attraction begins at 7pm. You will be provided with a flashlight to help you find your way through the shadows. Admission cost is $6 for the House of Shadows.
Autumn is here. Celebrate the season at Fall Fest in Sparta, WI