April 18, 2016
Spring in 2 the Trails Special Biking Event Sparta WI
Posted by: Jennifer
It's spring in Sparta, WI. The tulips are in bloom; the daytime temperatures are in the 60's and sometimes reaching 70+ degrees; the farmers are working the fields. All of this background information tells you that it's almost time for biking in Sparta!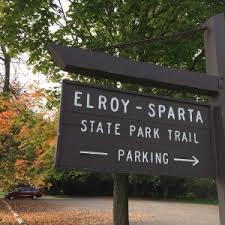 The bike trails will officially open on May 1st for the 2016 season. But – did you know that America's Bicycling Capital has a special celebration the day before opening day? YES! On April 30, 2016, Sparta will hold the "Spring in 2 the Trails Event" from 10:00 am to 4:00 PM right at Beaver Creek Market Square, in the center of town!
The morning entertainment is sponsored by the Sparta Kiwanis Club and will be the Annual Radio Days Production. Food will be available and the proceeds will benefit the Youth Hockey Association.
Live music will keep you entertained from 12 to 4 pm while the craft show and eclectic sidewalk sales will be happening. Look for Rosie's Handmade Crafts, DK Toys, Upcycling crafts, and Wildberry Studio to have fun and interesting crafts on display and for sale.
Since this IS all about the bike, we need to mention that a Bicycle Clinic will be run all day by Speeds Bicycle Shop. This shop can rent you a bike if you need one, can provide shuttle service for a day on the trail, and service and repair your bike if needed.
On Sunday, May 1st, 2016 the Bike Trail Seasonal Opening will occur with an organized ride from Norwalk to Sparta. There will be a flag raising ceremony and Ribbon Cutting to open the 2016 biking season on America's very first rails-to-trails system. Shuttles to Norwalk are available by calling the Sparta Chamber of Commerce.
The opening of the Bike Trail is always a special day in the area! Bicycling is a part of the 50-year heritage in the Rails-to-Trails movement across America. Knowing that it all began here in Wisconsin, makes locals proud to present their homeland to the rest of our country and to travelers from around the world!

If you can't come to Sparta, WI for this special weekend, make plans to bike here and stay with us sometime this summer or fall.