February 25, 2017
Springtime Motorcycle Rides Driftless Region Wisconsin
Posted by: Jennifer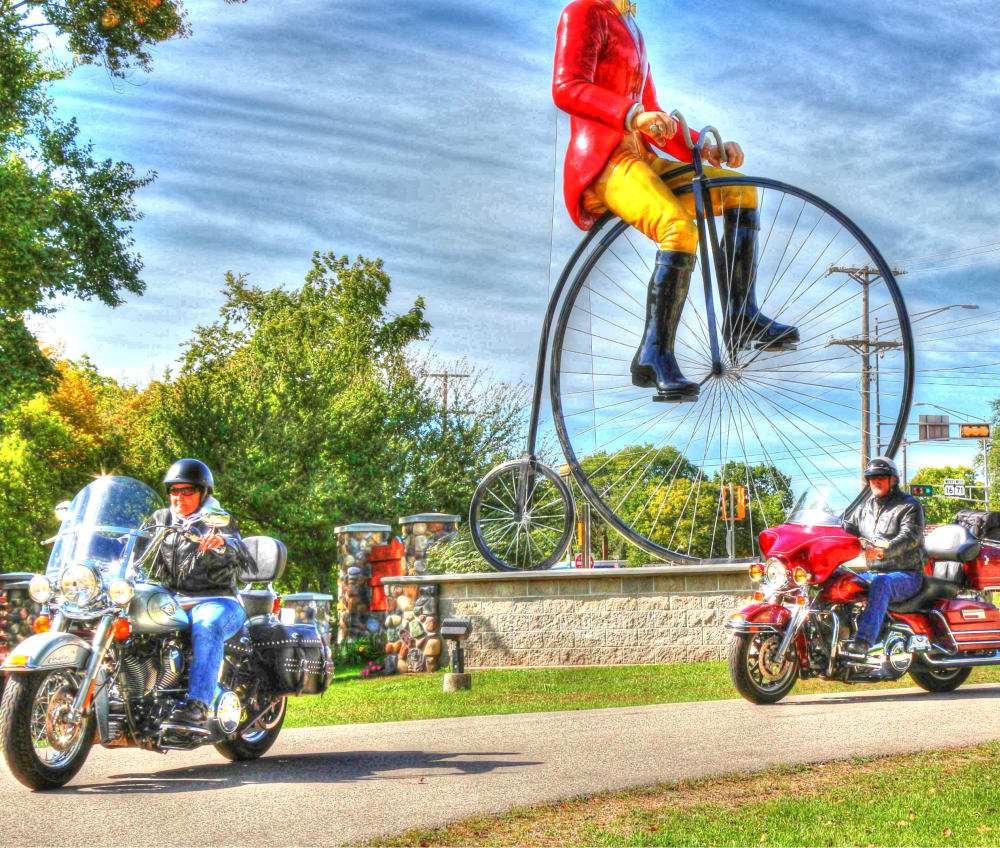 You know that spring is on the way when the sun rises a little earlier and sets a little later each day. That means one thing for bikers – it's time to get the motorcycle out of the garage or storage and plan a ride through the Driftless Destinations of Western Wisconsin!
Here at our Bed & Breakfast, we have indoor parking for your bike. So while you enjoy our comfortable rooms, generous and tasty breakfast, you will know that your bike is secure and out of the weather.
Plan a ride from Sparta following the Tomah route. It's one of six routes all mapped out with points of interest, restaurants, and scenic look-outs. Route 5 as it's known, is 134 miles long and takes about 3 ½ hours to ride. Of course the varies depending how many wonderful stops you make along the way!
Start the scenic ride here in Sparta where you must take a selfie with "Ben Bikin" at Evans Bosshard Park. Good ole "Ben" rides a different kind of bike than you but he represents one thing that Sparta is famous for: the 1st Rails-to-Trails system in the country. If you feel like peddling rather than "revving your engine", try out the Elroy-Sparta State Bike Trail.
From Sparta, head east on Route 21 to your first point of interest, Fort McCoy. The 60,000-acre Army base is home to US Army 86th Training Division and is used as a center to train Wisconsin State Patrol. It's worth a stop to salute our troops!
Continuing east on Highway 21, you will find the town of Tomah. Tomah is home to the National Tractor Pull held in late June. Tomah is also where you will find the Little Red Schoolhouse Museum. The school was built in 1864 and today, it serves to teach tourists and visitors all about teaching and learning in the 19th century. Tour around the town of Tomah a bit before continuing your motorcycle tour.
As you continue east on Highway 21, you may want to stop and dance with "Lady Luck" at the Ho-Chunk Gaming Center (formerly Whitetail Crossing Casino). The casino is open daily 8am to midnight even while a huge expansion project is under way.
As you travel north on State Highway O, near Warrens, WI you will see the Warrens Cranberry Bogs. Arrive at the correct time of the year and you will be treated to the harvest festival and the Cranberry Festival where almost everything is made using cranberries!
Follow State Highway O around to the west and then travel south on State Highway 27. Just past the village of Cataract you will find the Wegner Grotto. The Wegners started building concrete structures and decorating them with broken glass in 1929. They continued adding various small buildings and statuary until 1942. There is a glass church on the grounds that is often used as a location for weddings even today. There is a replica of the Wegners' 3-tiered 50th anniversary cake, a glass decorated bird feeder, and even a fanciful American flag crafted with glass pieces. You will enjoy the walk around the farm that is now owned and operated by the Monroe County Local History Room.
Continue your ride south on State Route 162 to the little village of Newburg Corners where you will find one of the most historic bars in south west Wisconsin. It has the fell of a traditional Raodhouse and offers live music and dancing every weekend. If you happen to stop by here on a Tuesday night, you can jam with the Tuesday Nite Music Club. This is one place you do not want to miss on your ride around the Driftless region!
Follow State Route 33 east to Cashton, then head north on State Route 27 to make your way "home" to Sparta and Franklin Victorian B&B. After a good night's rest and a wonderful breakfast, you will be ready for more touring of the Driftless Destinations.