December 6, 2017
The Local's Guide to Sparta Dining
Posted by: Jennifer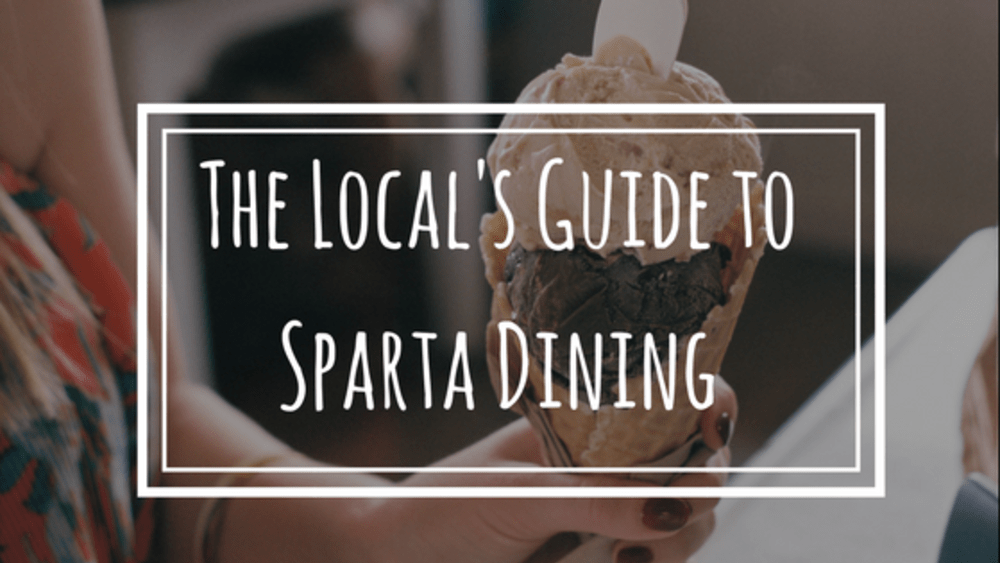 Just because Sparta is a small town doesn't mean you won't eat well while you are here. Whether you are in the mood for ice cream sundaes at an old-fashioned soda fountain or enchiladas at an authentic Mexican eatery, Sparta offers more than enough tasty options to keep you full and satisfied during your stay. Sparta is also a great town for trying classic Midwestern fare like mashed potatoes, meatloaf, and cheese curds. Here are the six restaurants locals rave about. Ask any Sparta resident and we can almost guarantee that one of these spots will make their list.

1. Slice of Chicago: You may be in Wisconsin, but you can still enjoy some tasty Chicago-style deep dish pizza while you're here. This pizzeria is a local favorite, considered by many to serve the best pizza pies in town. With names like "Belly Buster" and "Gut Buster," Slice of Chicago promises you'll walk away with a full stomach. You can choose from thin crust, hand tossed, and deep pan options, but if you are feeling adventures, you can also try their "tacopizza" or "chicken alfredo deluxe." They even offer pizza topped with mac 'n' cheese! If you aren't in the mood for pizza, they also serve up pasta, sandwiches, and wings. Dine in at their quaint, family-run restaurant or order some for take-out and enjoy a tasty slice on the Franklin Victorian porch.

2. Ginny's Cupboard: Ginny's Cupboard is a classic Sparta soda shop that locals of all ages love. Though it was established in 2003, the restaurant features a real 1957 soda fountain, a restored tin ceiling, and an espresso bar. At Ginny's, you'll find friendly service, old fashioned charm, and of course, delicious American comfort food. Ginny's serves up delicious ice cream sundaes, hearty soups, freshly made sandwiches, and salads for those looking for healthier options. It is located in the 1929 M.C Steel building, so stepping inside Ginny's Cupboard is like stepping inside a piece of Sparta history.

3. Rudy's Drive In: Rudy's is a Sparta institution. A traditional 1950s style drive in, Rudy's is the perfect way to indulge your nostalgia and your taste buds at the same time. This place is as 'old school' as its gets. You can order straight from your car and your servers will bring your meal right out to you. Try their famous root beer floats and chili cheese dogs, or indulge yourself with their other classics like cheeseburgers, cheese curds, malts, ice cream sundaes, and grilled cheese. A trip to Rudy's is like traveling back in time, no poodle skirts or pompadours required.

4. Sparta Family Restaurant: Come to Sparta Family Restaurant for traditional Midwestern fare in a friendly and casual setting. This no frills establishment is known for its great service, low prices, and mouthwatering comfort dishes. We love their American dinner classics, like mashed potatoes, roast beef, and meatloaf. Sparta Family Restaurant is also known for having one of the best breakfasts in town. But if you sleep in, don't worry. They serve breakfast all day.

5. El Vallarta: Don't let El Vallarta's unassuming exterior fool you. Step inside and you'll find a colorful and lively family-run eatery serving up authentic Mexican dishes that you can't get anywhere else. El Vallarta is a little taste of Mexico in the heart of the Midwest.

6. Club Oasis: Looking to go out on the town during your time in Sparta? Look no further than Club Oasis, an old-fashioned supper club beloved by locals and visitors alike. Their extensive menu boasts everything from battered Alaskan cod to juicy tenderloin steaks. Each night has its own special, like baby back ribs, bacon wrapped meatloaf, and slow roasted prime rib. Club Oasis also boasts an extensive beer list, featuring many Wisconsin craft beers. Supper Clubs are an irreplaceable part of Wisconsin culture, so we highly suggest you pay a visit to one while you are here. Feel like staying in for the night? Club Oasis's carry-out fried chicken is a well-kept local secret.

The Midwest might not be known for its culinary greatness, but Sparta proves that you can still eat delicious and varied meals even in a small town. We love eating out in Sparta and we hope you will too. From burgers at Rudy's to meatloaf at Oasis, Sparta offers many tasty and wholesome dining options that the entire family will love.

Planning a trip to Sparta, Wisconsin? Book a room at the Franklin Victorian Bed & Breakfast for a warm and inviting stay in one of Sparta's most beautiful and historic inns.