July 24, 2019
The Perfect Motorcycle Trip to Sparta
Posted by: Jennifer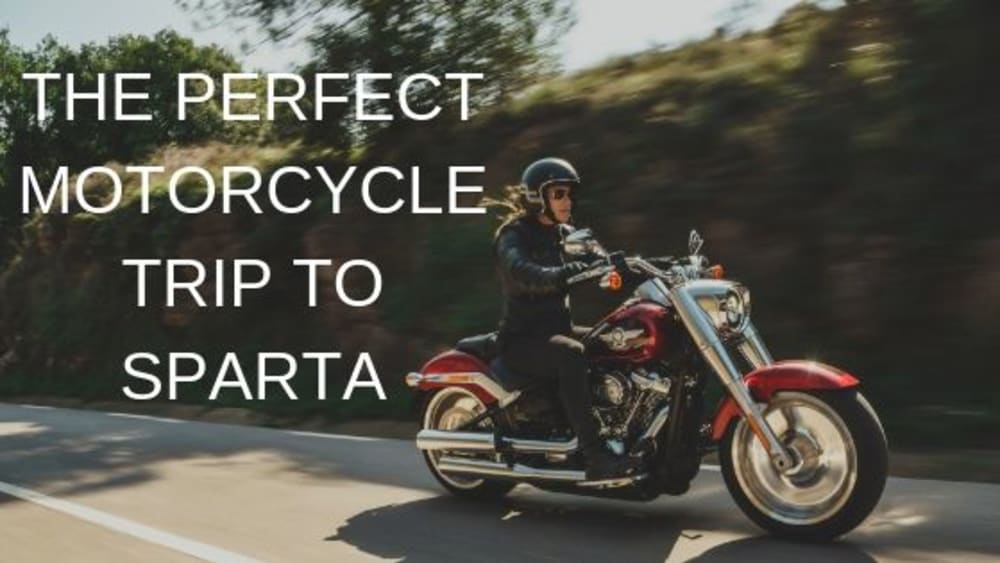 It doesn't matter if you're coming in from Green Bay, Madison, Minneapolis, or Milwaukee, a motorcycle trip to Sparta is the perfect weekend excursion. Sparta is far enough to take you through the beautiful rolling hills of Wisconsin, but not so far that your entire weekend is spent on the road. You can load up your bike with the essentials and head out after work on Friday to catch a beautiful Wisconsin sunset and start the day refreshed on Saturday.

When you pull into Sparta on Friday evening, you'll want somewhere to unpack your luggage and take a load off your bike. Somewhere close to downtown is important, you don't want to have to gear up every time you need to go somewhere! The Franklin Victorian B&B is the perfect location to stay. This B&B is centrally located downtown and offers a secure inside motorcycle space to garage your bikes while you stay overnight.

Saturday:

Awake to the smell of hot coffee and fresh home-cooked breakfast. Make your way downstairs to be greeted with freshly baked pastries, juicy in-season fruit, and a divine entree that will empower you for a day of exploration.

Grab an Espresso:
Walk down the street to the Franklin Coffeehouse just a block from the hotel if you need more of your morning pick me up. This craft coffee shop in downtown serves locally sourced and roasted coffee from the Wisconsin Dells.

Visit the Museum:
The Deke Slayton Memorial Space and Bike Museum is an amusing museum filled with great interactive exhibits and just so happens to be another couple of blocks from the coffee shop. Deke Slayton was born in Sparta and grew up to be one of America's first astronauts. One of the wonderful exhibits outlines his interesting life and the vital role he played at NASA. There is another exhibit on the Evolution of the Bicycle which eventually led into the development of the motorcycle. View their other exhibits and meander over to the Monroe County Local History Museum on the first floor of the building to learn more about our charming town.

Lunch at Rudy's:
Head down to Rudy's Drive-in for a classic American lunch. Try one of their fresh-cooked burgers to see why Discover Wisconsin named them as "A Must See" establishment. Eat your food outside on their shaded picnic tables, but grab your ice cream to go and head down to the river.

Walk along the River:
Enjoy your ice cream as you walk along the La Crosse River. Find Ben Bikin' and take your commemorative photos with the World's Largest Bicyclist. Cross over the Ben Bikin' Park Footbridge and over to Evans-Bosshard Park where you'll find an amphitheater where concerts are held, a playground filled with joyful children, and the Pointe Covered Bridge. Now that you have stretched your legs and walked around downtown, head back to home base and pick up your motorcycles for a lovely afternoon ride.

Ride through the beautiful Driftless Region:
There are several great rides next to the river, to the local state parks, and on curvy back roads, but we've found the perfect ride to get the best of all worlds. Driftless Destinations have created several routes, and one of our favorites is The Winding Cut. Start in Sparta, ride up to Millston and enter the lush Black River State Forest. Loop back to Black River Falls and cut down the 54 towards Melrose. Peel off the main roads and find your way to the Mindoro Cut, one of the most iconic motorcycle destinations in Wisconsin. Head over to La Crosse and stop for dinner.

Dinner at Buzzard Billy's:
The best Louisiana Cajun food just so happened to float up the Mississippi and land in downtown La Crosse. Buzzard Billy's bar and grill located in an old brick hotel serves the best authentic New Orleans cuisine and is not a place you want to miss. Stop on in for some southern hospitality and the best Crawfish Etouffee you'll have outside of New Orleans.

Head back to Home Base:
Take the scenic way back to Sparta. Drive over the river to La Crescent, MN then circle back over French Island to take in the gorgeous Mississippi River. Get off I-90 at West Salem, and take the much prettier Hwy 16 over to Sparta. Park your bikes in the secured storage area and enjoy the rest of your night. Take it easy and relax on the front porch, or walk to one of the many bars downtown for a drink.

Sunday:

Once again, the wonderful smell of coffee and homemade breakfast will pull you out of bed. Find an entirely different breakfast spread in front of you, yet just as satisfying as the day before. Put on some sunscreen, finish your coffee, and head out for your second day in Sparta.

Bike around:
Leave your motor-bikes at the inn and head over to Speed's Bicycle Shop to rent a human-powered bike for the morning. They are perfectly located next to the Elroy-Sparta Trail so you can take off and ride along one of the first rails-to-trails in America. Peddle through beautiful shade trees, through old tunnels, and see some of Wisconsin's wildlife.

Grab what you can carry:
Sparta has wonderful little shops all over town, but this trip may not be the best time to pick up an antique chair set. The shops are still lovely to wander through and there are tons of little gems that you could easily carry back with you.

Stop at Ginny's Cupboard:
This little spot is a local favorite. Find all of your favorite classics like grilled cheese and tomato bisque perfectly executed. Grab a light sandwich and a cup of their homemade soup to fuel you up for the ride home.

Take the Scenic Route Home:
Scan over the Driftless Destinations' Routes through the Driftless Region to find a beautiful road home. Stop at an attraction, grab dinner in a small town at the half-way point, and return home refreshed, relaxed, and ready for another week.
You always hear people saying "It's not about the destination, it's about the journey" but we think it is about both. Taking a motorcycle ride through the heart of Wisconsin is rewarding by itself, but exploring the quaint town of Sparta and experiencing new activities is what turns a weekend into the perfect getaway. Enjoy your time in Sparta, and come back often. Once you taste the culture of this small town, you'll be awaiting the day you get to come back.
Planning a trip to Sparta, Wisconsin? Book a stay at the Franklin Victorian Bed & Breakfast located in the heart of Sparta, close to all the activities, restaurants, and events that make this town so lively.