December 13, 2017
Where to Find the Best Cheese in Sparta
Posted by: Jennifer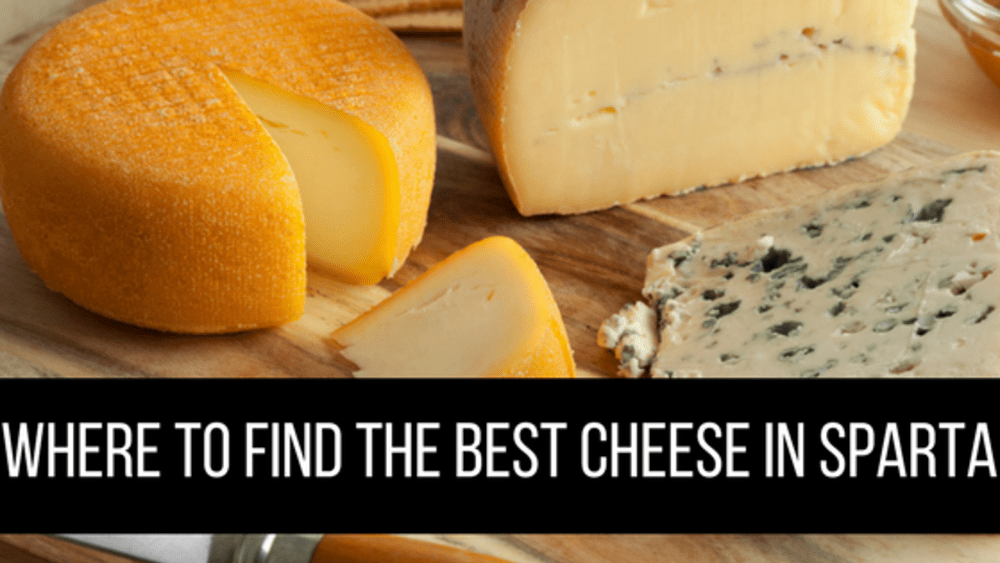 It is said that the Eskimos have over 50 words in their language for snow. It may be no surprise to you that Wisconsinites have even more words for cheese. With a rich cheesemaking tradition dating back to the arrival of European immigrants in the 19th century, Wisconsin is without a doubt the cheesemaking capital of the United States. The state produces over 600 varieties of cheese and has been the largest cheese producing state in the union since 1910. In 2014, Wisconsin produced 2.9 billion pounds of cheese. That is 25% of the cheese produced in the entire United States!
Brick cheese. Cold pack cheese. Muenster cheese. String cheese. Colby cheese. Come to Wisconsin and you'll find cheeses that you've never even heard of. Our favorite Wisconsin delicacy is cheese curds, a rubbery form of cheese made from curdled milk. Cheese curds are also known as "squeaky cheese" for the squeaking sound they make when you bite into them, which almost sounds like the squeaking of a balloon. The more the cheese squeaks, the fresher you know it is. For maximum squeakiness, cheese curds are best eaten the day they are produced. but they can last for several days when refrigerated. You can fry them, add them to poutine, make them into a paneer, or simply eat them raw.
Many grocery stores and markets in Sparta sell cheese and cheese curds year round, so you won't have any trouble finding them while you are here. However, to help you make the most of your Wisconsin cheese adventures, we have compiled a list of our favorite places try and buy the absolute best Wisconsin cheeses. You can also check out the handy cheese map on our site to help you plan the perfect cheese tour.
The Northwood Country Market: Sparta's go-to stop for cheese is The Northwood Country Market. This family owned and operated market sells all sorts of speciality food items, including meats, spices, produce, homemade bread, and pastries. However, are best known for their amazing assortment of high-quality cheeses. Their knowledgeable cheesemongers will help you find the perfect, tastiest cheese, whether that is brie, cheddar, gouda, or blue. Many of the cheeses on their shelves are locally made. We especially love the market's friendly and helpful employees. Still hungry? The 1003 Sandwich and Coffee Shop located inside the market sells coffee drinks like espresso, lattes, and cappuccinos as well as delicious made-to-order sandwiches, many featuring signature Wisconsin cheeses.
Foster Cheese Haus: Foster Cheese Haus is a great nearby restaurant that also sells some of the tastiest fine cheeses around. Plan a lunch or dinner at the Foster Cheese Haus for the best wood-fired pizzas Chippewa Valley has to offer. All pizzas are homemade with local ingredients, including Wisconsin dairy and herbs picked from their very own garden. You can also visit their beer cave or sample some delicious Wisconsin wines. After your meal, visit their store to find over 500 varieties of Wisconsin milk and cheese as well as sausages, chocolates, and baked goods.
Humbird Cheese Mart: Head down Highway 94 to Tomah for one of the best selections of cheeses you'll find in the region. Humbird Cheese Mart has been around since the 1930s and is your best source for premium aged cheeses. Humbird consults 26 producers throughout the state to bring the best and finest cheeses to their shelves. You will love Humbird's bright and colorful exterior and unique, farm-inspired architecture. Once inside, you'll find excellent varieties of blue, brie, cheddar, colby, gouda, havarti, monterey jack, swiss, and many others. You'll also find yummy cheese spreads in many delicious flavors such as smoked bacon, garlic & herb, port wine, and horseradish. But Humbird doesn't stop at cheese. You can also buy high quality fudge, mustard, and sausages. Looking to bring home the perfect Wisconsin gift? Purchase one of their speciality-made gift boxes for the quintessential Wisconsin souvenir.
4. Le Coulee Cheese Castle: Le Coulee Cheese Castle in nearby West Salem is another great stop for your Wisconsin cheese tour. Located in historic downtown Salem, La Coulee has been open since 1981. Come for the best selection of unique flavored cheeses within driving distance from Sparta. Their specialty is flavored cheddars: cranberry, blueberry, chicken soup, buffalo wing, herb & garlic, and even chocolate cheese. But you will also find 50 other varieties of cheese within their doors. In addition, they sell a variety of specialty food items, including hand-dipped ice cream cones, honey, syrups, jams, jellies, nuts, candies, butter, sausages, and Wisconsin-style popcorn. Build a gift box for a loved one or order online if you are having any cravings once you return home.
People tour Napa Valley to taste its fine wines and journey to Germany for its beer and bratwurst. People come to Wisconsin for its cheese. With its fertile dairylands and rich cheesemaking tradition, there is simply no better destination for any cheese-lover than Wisconsin. Whether you come for cheese curds, flavored cheddars, or yummy cheese spreads, you will find plenty of delicious cheese delicacies to keep you full and satisfied during your Wisconsin cheese pilgrimage. After your trip, you might even start calling yourself a "cheesehead" too.

Planning a trip to Sparta, Wisconsin? Book a stay at the Franklin Victorian Bed & Breakfast for a warm place to call home during your Wisconsin cheese-tasting adventure.