June 24, 2019
Why Sparta is the Perfect Place to Spend Away This Summer
Posted by: Jennifer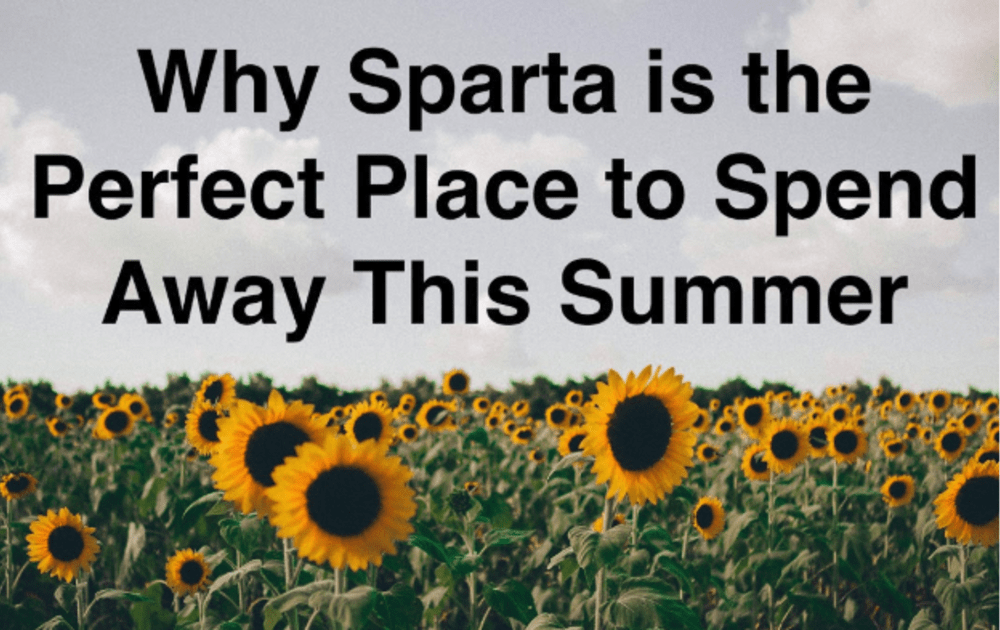 Sparta WI, nestled in the rolling hills of Wisconsin, is a perfect summer town. With the La Crosse river winding along the town and bike paths all over the place, it is almost irresistible to get out and enjoy the lovely summer weather. Pair that with all of the great events going on all summer long and the amazing restaurants we have, Sparta is the perfect summer vacation destination you've been dreaming of.

Activities:

Bike: Sparta isn't called the bicycle capital of the world for nothing. Ever since they were one of the first towns to convert a railway into a recreational trail, they have been connecting bike trails meandering all across Wisconsin. Bike along urban areas and stop for lunch and ice cream or go out into nature and roam about on any one of the many bike trails outside of town.

Canoe, Kayak, and Tube: Spend the day floating along one of the several rivers around Sparta. Head over to Kickapoo Wild Adventures just southeast of town near Ontario, or Titanic Canoe Rental to pick your vessel of choice and enjoy the water! You can head out by yourself for some peace and solitude or take a guided tour to meet some folks and learn more about the area. Either way, a day spent out on the water is always a great one.

Golf: River Run Golf Course is one of the best-kept secrets in Wisconsin. With beautiful scenery, little lakes, and pine trees throughout, golf has never been so enjoyable! Stop by afterward to their restaurant The Greens for lunch and enjoy a classic burger and an Arnold Palmer.

Shopping: Downtown Sparta is filled with great stores. Shoes to apparel, and sustainably sourced bath products, all on top of the several amazing antique stores, Sparta has everything you're shopping for (and more, trust me). Wander around downtown and you'll be in a shopping paradise. We've even created a list for Our Favorite Shops In & Around Sparta!

Summer Events:

Sparta Crazy Daze: On July 20th get ready for the shopping thrill of the year. Businesses all over Sparta offer discounts and deals and the chance to win BIG prizes. There's also sidewalk sales, food trucks, farmer's market, street musicians, and tons of family-friendly activities.

Full Moon Bike Rides: Each month on the night of the full moon, the Sparta Chamber of Commerce offers a full moon bike ride for anyone wanting to stroll along and bask in the light of the moon. Each month takes a different route around town with different people. These monthly events are just good wholesome fun!

Farmers Market: When you're in the middle of Wisconsin, you'd better believe our farmer's markets are good. Farmers and vendors from all over the state collect here to sell the freshest fruits and vegetables you'll ever taste, amazing home-made crafts, and of course, local cheese from local dairies. It doesn't matter if you're here only for the weekend or passing through on a weekday, the Sparta Farmers Market runs 2 days. Wednesdays from 3pm-6pm and Saturdays from 8am-12pm.

Country Boom Music Festival: Country Boom brings the soul of Nashville to the heart of the Midwest. Just outside of Sparta, stages will be set and major country headliners will come to town from July 11th-13th. Put on some cowboy boots and head over for a night you won't forget.

Coming to Sparta this fall or winter? Fear not that the fun is over. Our town hosts events all year long. Check out our Calendar of Events to plan your trip around some of our best festivals, fairs, and markets.
Dining:

Rudy's Drive-In is a summertime classic. Indulge in your nostalgia with this 'old school' drive in and enjoy some of their classic meals. Try one of their famous root beer floats or ice cream sundaes. Great food like this was made for enjoying on warm summer days.
Slice of Chicago is another favorite in the town. They have a thin style, classic hand tossed, and a deep dish that is to die for. Dine in and load up on some Chicago-style pizza or take it to go and head to one of Sparta's many parks for a great pizza picnic.
Cork and Barrel is the perfect place to cool off after a long day in the sun and enjoy a drink. Their wine list is exceptional and their bourbon list has something for everyone. Try a bourbon flight or one of their specialty bourbon cocktails to relax and take in your day.

Want more recommendations? Check out our Local's Guide to Sparta Dining or Our Favorite Local Bars and Pubs.
Sparta in the summertime is truly like no other. The friendliness of everyone you meet, the amazing food, and the beautiful scenery that encompasses us is what makes us so special. Come visit us, and see for yourself. Be warned, you may just fall in love with our little town.

Planning a trip to Wisconsin this Summer? Book a stay at the Franklin Victorian Bed & Breakfast located in the heart of Sparta, close to all the activities, restaurants, and events that make this town so lively.